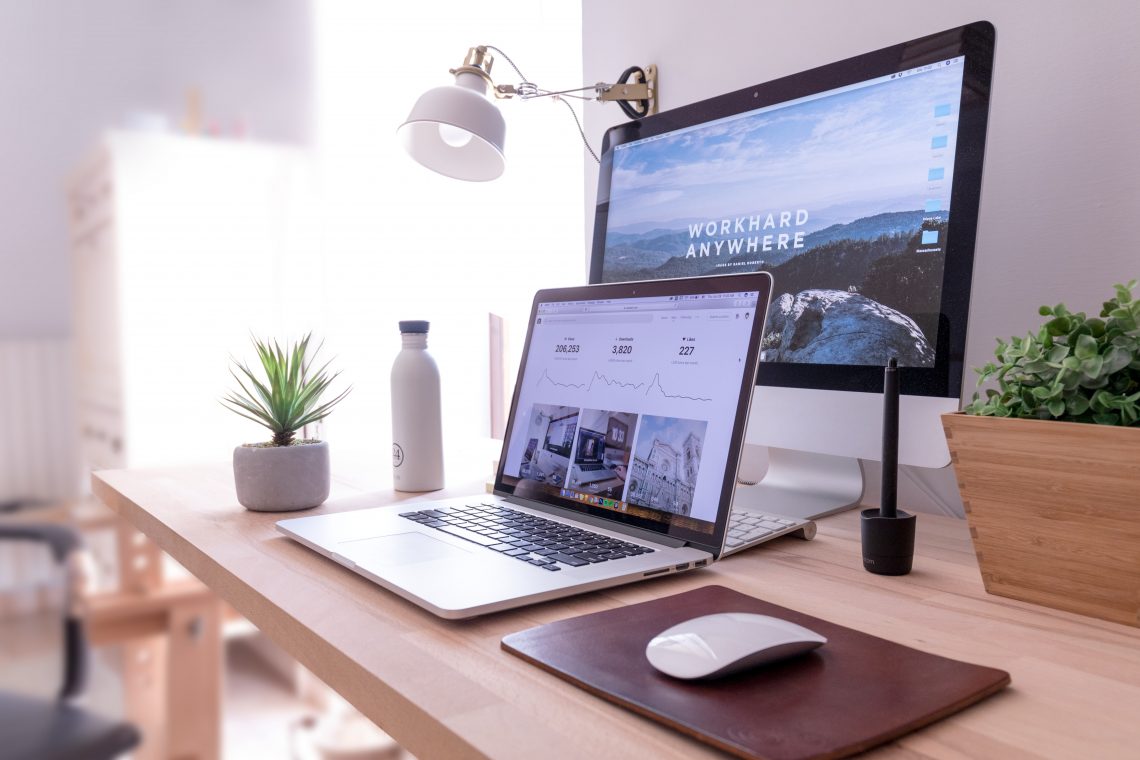 5 Awesome Author Website Examples to Emulate
Are you learning how to sell more books as an author? If you're wondering how to sell your self published books online, start with an author website.
Author websites are your online book marketing hub. They give you a location to blog, interact with your audience, and keep readers coming back for more.
The best website designs for authors include:
A display of new releases
A list of published books
Upcoming events or book signings
A way to contact the author
Links to social media channels
A regularly updated blog
An obvious newsletter/subscription opt-in
The design should be clean, use plenty of blank space, and remain easy to navigate. Make sure your website is also mobile-friendly for better results.
Explore how the pros implement these elements below. Our five awesome author website examples are perfect to emulate when creating your own author platform.
1. Glendy Vanderah
Authors are important, but most readers head to an author website to check out the books. They're not on your site to read your bio most of the time.
A minimalist setup is all you need. Put your book front and center with the pre-order or order page as the first thing people see. Bonus points if you can incorporate movement to bring the site to life. Glendy Vanderah's website is a great example of this because it cycles through quotes about her book from various publications without becoming tacky.
However, moving text may not work if your site has a slow load time. Keep your web host in consideration, or people may click away from your site before it has a chance to impress.
The buttons at the bottom of Glendy's home page are also an excellent example. Even if your book is only available for pre-sale, the links steer your audience directly to retailers who carry your book.
2. J.K. Rowling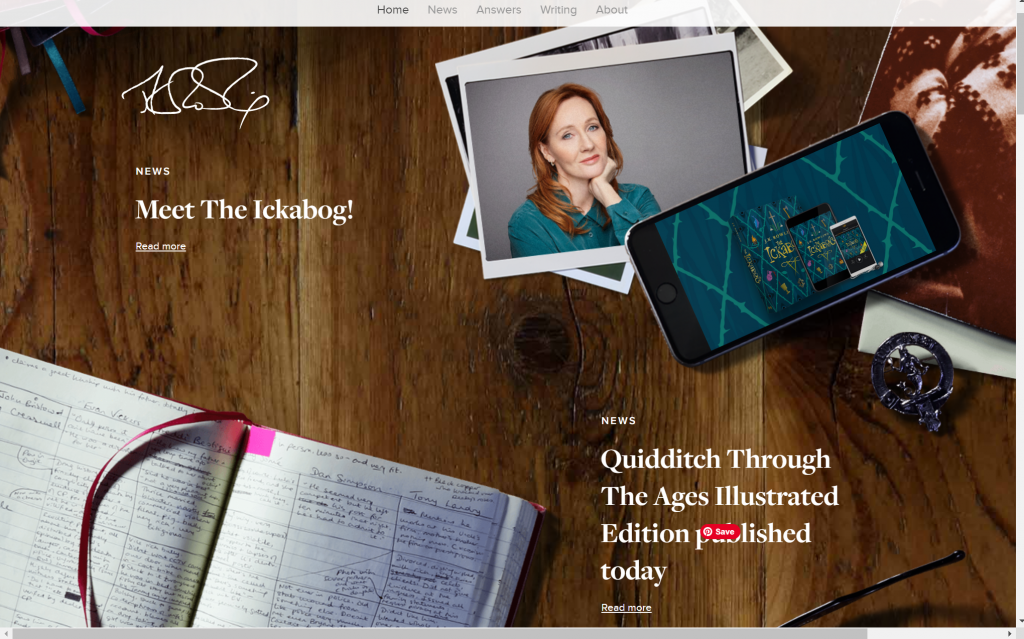 J.K. Rowling has the fame and fortune to build a truly stunning author website, and she did. She has Pottermore, which gives her fans a place to interact online. But Rowling also has jkrowling.com dedicated to herself.
The imagery on her site is what makes it special. As she explains, Rowling writes sitting at a wooden table like the one in the photo. Right when the website loads, you see a picture of her front and center. There are images of her books, notes, scripts, and more.
Plus, the latest news on the Harry Potter franchise is immediate. Truly well-done and utterly unique.
3. Megan McDonald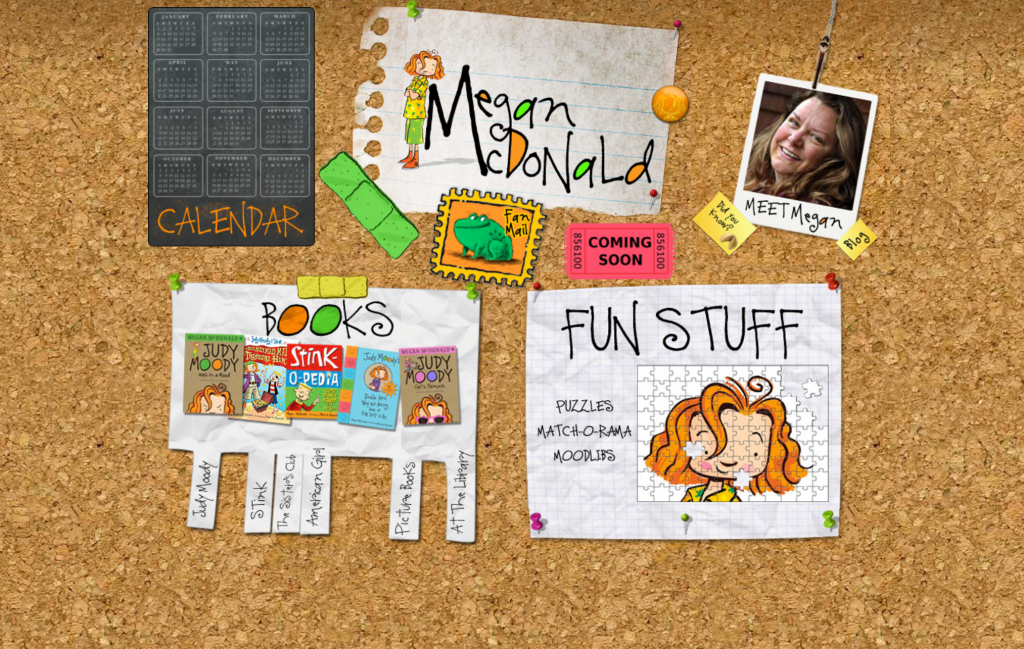 Children's books are supposed to be fun, so why not make author websites match?
Carry the illustrative style of your book over to the website, like Megan McDonald. Because she writes kid's books, including imagery is a great extension of her novels. It's also an excellent way to brand yourself or your book series.
McDonald also provides images of herself, her books, upcoming events, news, and fun stuff in a creative corkboard design. The page looks like a real collection of mementos from her work.
4. Austin Kleon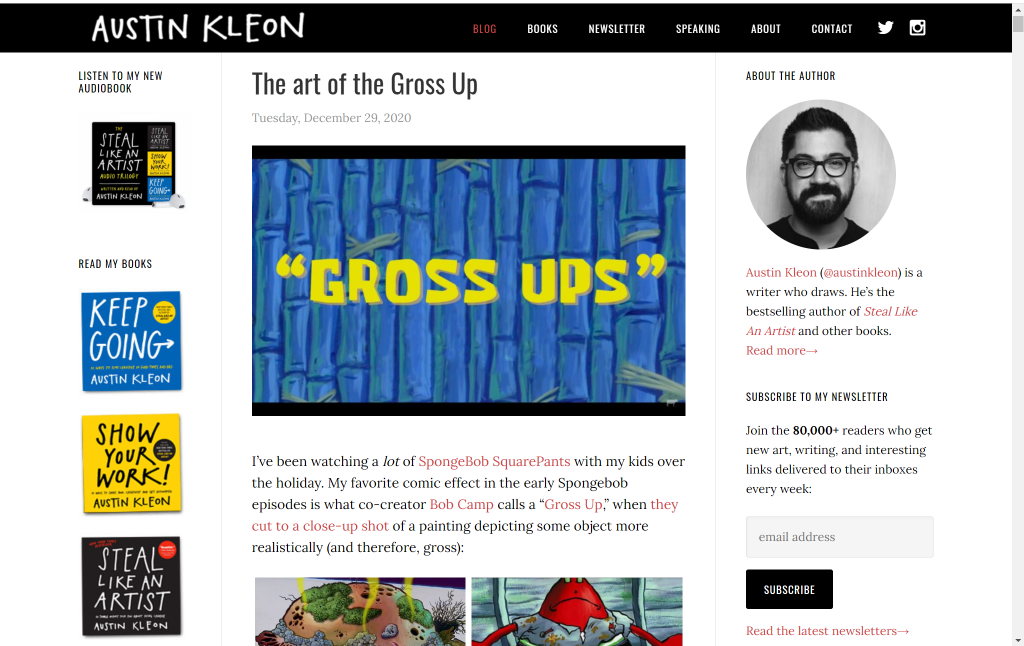 Blog posts result in more website visitors because they give folks a reason to come back. Austin Kleon's home page dives straight in. You can tell it's up to date immediately because he posts something new and creative every day, and he showcases his talents well.
Kleon includes his books on the left toolbar. His photo is on the right with a short bio, and there's even a prompt to sign up for his weekly newsletter. This website achieves everything it needs to straight away. You know the author is active and still writing.
5. Lesley M.M. Blume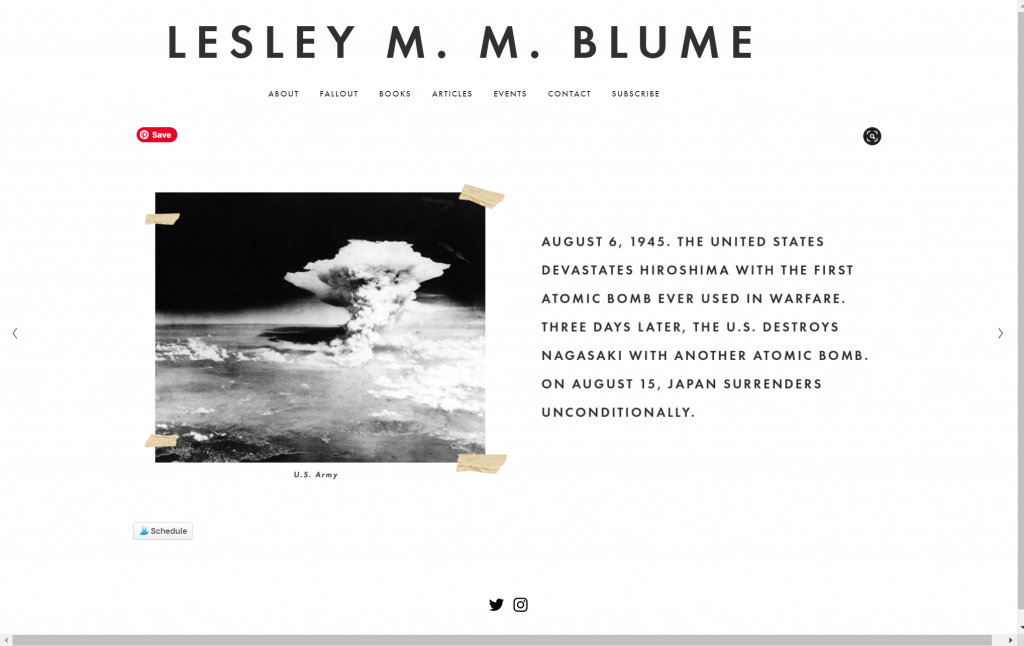 Give your readers a chance to fall in love with your book. When you go to Lesley M.M. Blume's site, you first see a photo of the atomic bomb exploding in Hiroshima circa 1945. As you click, you learn more and more until she links this information together with her new release.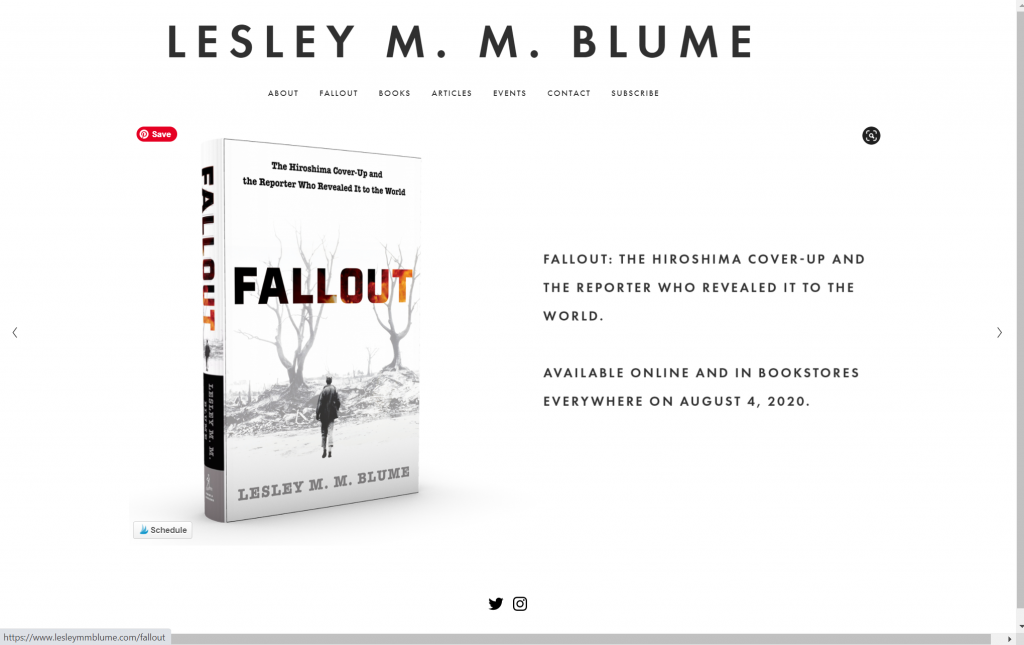 Don't steal this clever idea. Offer a preview or trailer of your book on the home page, like Lesley M.M. Blume. Visually show readers what the book entails. Present it in a way that's faster to consume than a full synopsis. Make them want to dive right into your story.
The Final Takeaway
To sell more books, authors need to invest in book marketing resources. An author's website is one of the biggest parts of your platform.
Each of the above examples showcases best practices in a stunning and creative way. Are there other options to create your author website? Absolutely!
Mix and match some ideas to come up with a unique author website design. The more you stay true to yourself and your story, the better your site.
What are your favorite author websites? Link to the options you would add to this list in the comments.
---
Do you need someone to build your author website? My husband, Eric Haines, is a talented graphic designer, artist, and web developer at an affordable rate.
Explore his work at EricSave.Us and get in contact with him to discuss your design needs.