Stores rack up prices of some items to downright ridiculous prices, especially on the things we often use in small quantities like herbs. Depending on where you shop, you could easily be spending much more than you need. But when you have your own supply growing at home, your herbs can continue to grow while you use only what you need, when you need and dry the rest.
I've tried time and time again to grow my own herb garden and join in on the all the benefits of having your own home herbs. 
I find myself asking, "Will the third try be the charm?", "Will my herb garden live another day?", and "Why do I even bother?" 
And even though my green thumb seems to fail me when it comes to growing herbs on my own, from seed to plant, I won't give up just yet.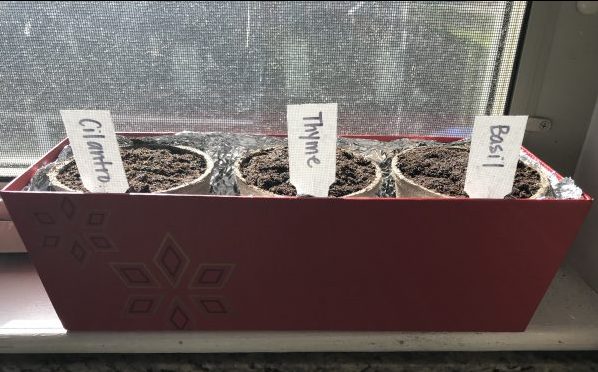 There are tons of reasons why herbs are good for you, but here are 9 reasons why you need to grow your own herb garden at home:
1. Save money on groceries.
Herbs can be expensive in stores. Yet, adding a few herbs will spice up any meal and buying your own seeds or plants is relatively inexpensive in comparison. 
2. Better and fresher meals at home.
Accentuate the flavors of your dish, no matter what recipe you follow. The herbs you pick from your garden will taste fresh. Even your own dried herbs have to be fresher than the packaged bottles at your local supermarket. 
3. Healthy body, healthy mind.
The well-researched antioxidant properties and vitamin replacements make adding herbs to your meal an easy way to get the nutrients you need.
4. Some herbs keep mosquitos away.
Try growing herbs like basil, lavender, and peppermint to keep pesky bugs like mosquitos away from your home. 
5. Aromatherapy helps people with various health problems.
The ancient art of aromatherapy is a stress reliever and mood enhance while aiding your life in many ways. Peppermint, rosemary, oregano, and thyme are the most popular options. However, even basil's pleasant smell is relaxing. 
6. Plants look aesthetically pleasing and boost your happiness.
They look great, and studies have shown that keeping houseplants around your home boosts your mood. 
7. Easier than most houseplants.
Herbs don't take up much space, don't need more than 4-6 hours of sunlight each day, and require little maintenance. You only need to check up on them once in a while to water the soil, but little labor is needed to grow your own herbs all year round. 
8. Relieve stress.
Gardeners can tell you why they enjoy tending their plants. Hobbies like gardening can relieve stress that builds up in your daily life and refresh your soul. 
9. Give back to the community, your family, or loved ones.
Growing your own herb garden will allow you to share the extra herbs you grow with friends, family, neighbors, community members, etc. Take a basket full of herbs to get-togethers and dry your own herbs in jars to give as gifts for the holidays. 
What are the herbs you enjoy adding to your meals the most? Do you know how much money you could save by growing them yourself? Have you tried growing your own herb garden only to fail before you could take advantage of the plants?
Share your experiences in the comments below. Then, check in on my herb garden's progress on Facebook or Instagram.